Rick Scott Unmasked as Serpent King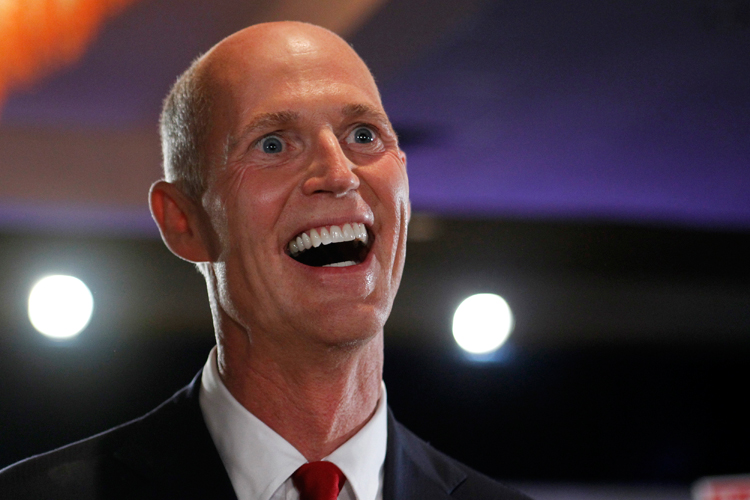 3/30/15 Tallahassee, FL:
In a stunning revelation uncovered by the Florida Fish and Wildlife Conservation Commission today, it was discovered that two-term Governor Rick Scott is actually a writhing mass of dozens of snakes living inside a suit of human skin.
"I still can't believe it," said Nick Wiley, Executive Director of the FWCC. "Pets kept disappearing from homes around the Governor's Mansion. We figured it was nuisance gators, but now, I'm not so sure."
Wiley was treated for a snake bite on his wrist after trying to wrestle Governor Scott into custody. "Yeah, one of the snakes in his forearm was a water moccasin," he said waving a bandaged arm. "Hurt like hell, but the Paramedics had anti-venom in the ambulance and administered it within a couple of minutes."
Wildlife conservation agents assigned to the Everglades National Park reported early Monday that the population of invasive exotic snakes now threatening native wildlife throughout the region were highly agitated in the wake of the arrest. "It's creepy," said Agent Sable. "They've been lashing out at tourists, airboats, even attacking passing traffic on Alligator Alley. It's like they know, somehow. I mean, we're used to weird shit happening in Florida, but this is going too far, you know?"
Senator Bill Nelson (D-FL), was less surprised. "It all makes sense now. For the longest time, we assumed Governor Scott's steadfast denial of Climate Change was just evidence he was beholden to the same old Republican special interests in the petroleum, coal, and natural gas industries. But it's been getting out of hand the last few years.  With Miami sinking beneath the flood waters, he actually banned people in his own administration from even using the words Climate Change. We thought he'd gone insane. But it was all part of the plan to allow the effects of global warming to expand the territory he needed to grow, strengthen, and train his serpent army in preparation for the coming war. I mean, what other explanation is there? You'd have to be a complete idiot to actually deny climate change at this point."
Former Republican Governor turned Democrat, Charlie Crist, who lost a narrow race to regain his old office to Gov Scott only last year, had this to say about the discovery. "This just confirms everything we've been saying about Governor Scott from the beginning.  His vision of a reptile-dominated future is out of step with the people and manatees of Florida."
Governor Scott's human suit has been DNA matched to a man reported missing from Ocala in August, 2009. The name of the victim is being withheld until authorities are able to contact his relatives.