The Canopus Awards, Year Two. Drumroll Please…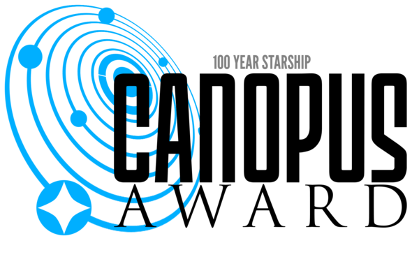 Big announcement today, everybody. Yesterday, after an unfortunate hiatus caused by Hurricane Harvey, the people over at 100 Year Starship were finally able to announce the winners of the second year of the Canopus Award for Excellence in Interstellar Writing.
As the name suggests, these awards go out to authors and works that align with the mission and the spirit of 100 Year Starship; laying the groundwork to take mankind to the stars. The organization is made up of writers, scientists, astronauts, futurists, and dreamers who can't help themselves but to look up and wonder.
So, I'm beyond pleased to announce that my debut novel, THE ARK, was selected by the judges to receive an Honorable Mention in this year's contest! And while it fell short of winning, it's an honor to be considered alongside genre greats like Cixin Liu, Alistair Reynolds, and some guy named Buzz Aldrin, who isn't an author per se, but did do some flying or something. If you haven't read THE ARK yet, now's probably a good time to see what all the, ahem, buzz is about.
Congratulations to all the finalists and winners. It was a tough slate to go up against. Nominations for this year's contest will be opening in the near future, however, and both GATE CRASHERS and STARSHIP REPO will be eligible works. Maybe throw me a nomination or two when that happens.
But only after you've read the books, obvs.