Fake Reviews and Amazon's Apathy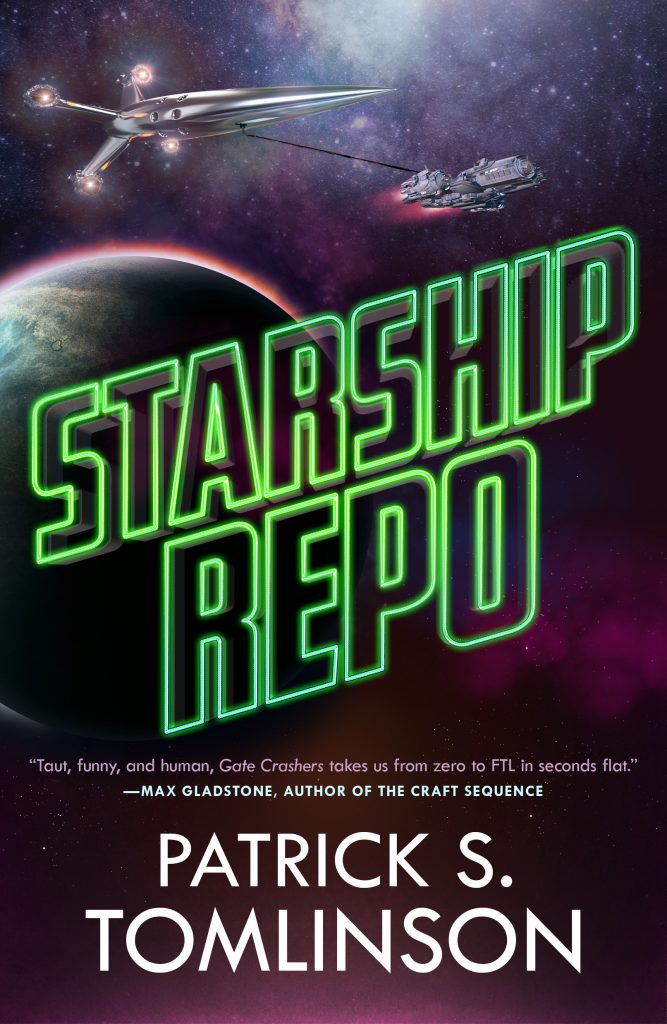 Hello fans, friends, and followers. As you (hopefully) know by now, Tuesday marks the launch of my next book from Tor, STARSHIP REPO. Order yourself a copy, you won't be disappointed.
Unfortunately, the impending book birthday party for my newest is being crashed by a familiar group of rabid, obsessed cyberstalkers. For the last nine months, I've been the target of a non-stop harassment campaign, organized by trolls on Reddit. You can read about the origins and the first few weeks of their attacks here.
For going on a year now, this small group of a few dozen terrorists has been single-mindedly haranguing me across the breadth of the internet, swarming my YouTube channel, blog, and Instagram with homophobic and body-shaming comments, launching mass false reporting attacks to suspend my Twitter account and lock my Facebook, impersonating me in the comments section of my publisher's website trying to make me appear racist and anti-Semitic, doxxing my home address, making harassing phone calls to local businesses I frequent, and of course death threats and suicide demands.
This same group was featured in People Magazine for an identical harassment campaign waged against singer/songwriter Logan Lynn, using similar tactics and making many of the same false accusations. The original 27,000 subscriber subreddit eventually imploded when one of the mods tried to impose some semblance of order, and was immediately torn apart by his own members. It was then resurrected in a smaller, but no less vile sub populated with support for homophobia, racism, and white supremacy.
They are, in a word, unhinged. During all this time, this group has also tried very hard to tank my Amazon and Goodreads scores by review bombing my books with faked 1 Star ratings. Most of these fraudulent reviews are easy to spot, as they are seldom verified purchases, lack any sort of detailed descriptions of either characters or plot that would indicate they'd actually read the book, and are often written by accounts that are either brand new, or have very little activity. But casual browsers unaware of the situation can hardly be expected to do the necessary sleuthing to separate the real reviews from the fraudulent.
However not all fake reviewers are content to take a pithy shot at work they haven't read and hit enter. Some of them are far more insidious. Like this one:

Again we see the twin accusations of anti-Semitism and racism, which is a common theme and tactic among these people: Accuse the enemy of that which you are guilty. But, is it true? I think anyone who's been following me knows the answer to that already, but just in case, here's pages 83 and 283 from GATE CRASHERS: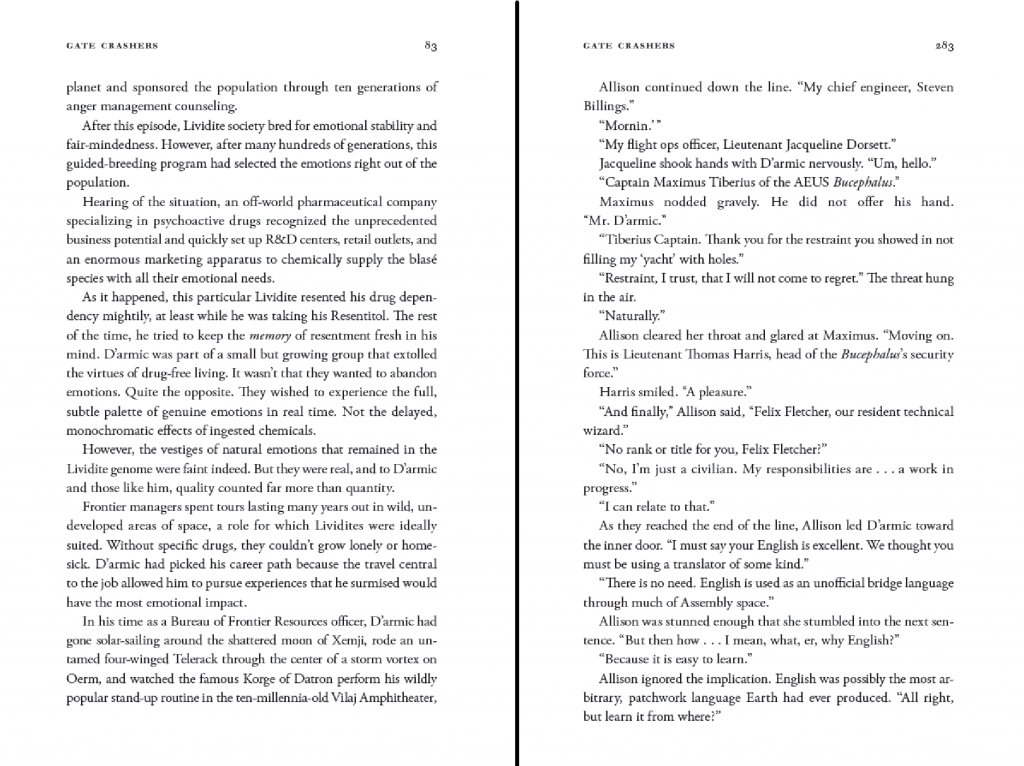 Now, if you can find any anti-Semitic dog whistles or references to women leaving their husbands for African Americans anywhere in there, you should probably lay off the drugs for a while. Not only is this review fake, it is deliberately abusive and libelous. But they're not content with past abuses, oh no. For months now, this sub has been counting down the days until they can review carpet bomb STARSHIP REPO with more of the same fake ratings the second it's released, hoping to tank sales. That's not hyperbole, by the way. They literally have a countdown clock: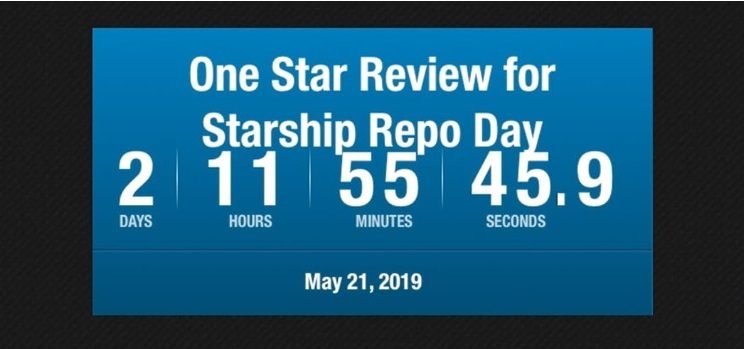 Classy. Remember, this is a book none of them have read, and none of them even have access to. We know who advanced reader copies have been sent to, and none of them are on the list. This is purely about continuing their terror campaign against a randomly picked target for fun.
I fully expect that before I wake up tomorrow, STARSHIP REPO will have several dozen fake, malicious reviews already posted on its Amazon page, along with the half dozen that have already appeared on Goodreads. All of the above evidence and explanation has already been repeatedly sent to Amazon customer service, both from myself, and from my publisher. And what has Amazon done in response?
Absolutely nothing. Indeed, they have actively refused to take any action at all, falling back on the excuse that their algorithms have already determined the reviews are genuine, and no human actively polices them anyway.
This is, to put it mildly, disappointing coming from one of the largest and most powerful companies in the entire world. When all is said and done, I don't really blame the trolls for their antisocial, maladjusted behavior, any more than I would blame a baby for soiling its diaper, or a college student puking up six hours of 2-4-1 Long Island Ice Teas in an Applebee's sink on their 21st birthday. In all three cases, they simply have no control over themselves, and can't be expected to do better.
But Amazon and other companies like Twitter, Facebook, and Reddit can be expected to do better. Indeed, we must demand they do. Targets of online harassment campaigns must be given the tools they need to combat these all-encompassing attacks, and their oppressors silenced.
Somehow, when it comes to our collective online lives, society has agreed to the perverse notion that people of accomplishment and status, be they actors, athletes, writers, or musicians, should just shut up and take it when harassed. "Don't feed the trolls" people who have never been in the spotlight say, not realizing that trolls turn to stone in the presence of sunlight. Meanwhile, hordes of anonymous terrorists are somehow afforded infinite free speech rights, up to and including consequence-free libel, incitement to violence, and threats of bodily harm or death.
This social compact is not just counterintuitive, but utterly insane. It validates and encourages the dead worst behavior, from the world's most awful people. It has poisoned social media and public discourse, and it must change. Some websites are actually taking steps to combat brigading, like Rotten Tomatoes, which changed their review policies after a misogynistic review bombing campaign against the Captain Marvel movie. Disney made the right move in rehiring James Gunn to direct Guardians of the Galaxy 3 in the wake of his firing after being attacked by an alt-right defamation campaign.
These are good first steps, but far more needs to be done to counter online hate mobs. As for me, I'll be spreading the word by linking this article to every fake review one of these lost boys posts to my work. If Amazon won't help creatives by protecting the integrity of their ratings system, we'll just have to take matters into our own hands.
As always, if you like what I'm doing here, please subscribe to my email list in the blue bar at the top of the page. And if you really like what I'm doing, order a copy of STARSHIP REPO. And maybe leave an honest review.