Get Ready for GenCon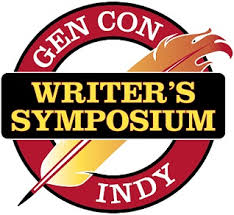 It's that time of year again! In five days, sixty-thousand plus gamers, cosplayers, aspiring writers, and nerds of all stripes will descend upon downtown Indianapolis like a swarm of geeky grasshoppers for GenCon, the best four days in gaming.
And once again, one of the best kept secrets in the publishing industry will be happening right across the street. Taking up brand-new digs at the Westin just a short skywalk away from the convention center, the GenCon Writer's Symposium is running almost 200 hours of programing from Thursday to Sunday, featuring more than 70 guests. With everything from panels with professional authors, to readings and signings, to pitch sessions with actual literary agents, the Writer's Symposium has grown to be a con-within-a-con.
Whether you're an aspiring writer looking to polish your skills, or have a finished manuscript looking for a home, this is the place for you.
I'll be on several panels this year. Here's my schedule:
Friday, 9:00am: Business of Writing: Social Media 101
Friday, 3:00pm: Writing Novels: Ending it Right
Friday, 4:00pm: Signing
Saturday, Noon: Writer's Craft: Fun Story, Smart Message
When I'm not speaking on panels, you're almost sure to find me at the Angry Robot Books booth, #3044, in the main dealer hall, where I will be selling my books, and defacing copies of Adam Rakunas novels.
Check out the rest of the schedule. Sign up for some panels. You won't regret it. And don't forget to swing by and say hello. I'd love to sell you books meet you!