Fukushima is Not Killing Your Babies
Well, the Packers lost and now I'm mad and want to shout about something. So here goes.
It's been almost three years since the tragic double-catastrophe of the March 2011 Japanese earthquake and tsunami caused what is undoubtedly the second largest nuclear accident in history, crippling the Fukushima Nuclear plant and sending many thousands of tons of radioactive materials into the atmosphere and leaking into the Pacific Ocean. To call it a disaster is an understatement, and the people of Japan will be dealing with the after-effects for a generation. None of this is in dispute. Scientists, environmental agencies, and nuclear watchdogs throughout the world agree that continued study and work needs to be done to limit the damage.
But a funny thing has been happening lately, as the usual chorus of lunatics, conspiracy theorists, know-nothings, and the slick-talkers who make their money pedaling falsehoods to them have been flooding the internet with new accusations, unproven links, and wild speculation about the fallout and after effects of the Fukusima disaster on U.S. soil and sending many well-meaning people into a panic.
The headlines read like something out of a Hollywood disaster movie:
Radioactive Fish Invade West Coast!, Ocean Floor Covered in Corpses!, California Babies Dying by the Thousands! They even have big, colorful, very official-looking maps!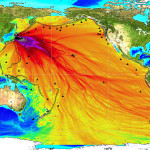 All very scary, to be sure. The problem, as is so often true of sensationalistic headlines, is that they people running them have used exactly the same standards of scientific rigor employed by the average Hollywood scriptwriter.
That is to say, none at all. Let's calm everyone down one headline at a time.
Holy shit, there's radioactive fish in my tacos!
Here's the issue with that. The claim is absolutely true, up to a point. Samples of bluefin tuna have been found to contain traces of Cesium-134 and 137 that can be linked back to Fukushima. Cesium-137 is a byproduct of the fission process and does not occur naturally on Earth, so whenever we find it, we know it can be traced back to a nuclear reactor (or bomb). This is where the alarmists, kooks, and anti-nuke hippies want you to stop reading.
Still with me? Good, I figured you would be. Here's what Paul Harvey would call, "The rest of the story." The very scientists who took the tuna samples and discovered the contamination go on in their study to say that the levels of radiation in these fish is miniscule. Only 3% above naturally-occurring background radiation. That's well below presenting any measurable increase in cancer risks to humans. Indeed you get a dose of radiation twenty times greater from the decay of potassium with every banana you eat. Here's Nicholas Fisher, one of the authors of the study, speaking to Scientific American:
"For fish that are harvested 100 miles [160 kilometers] out to sea, I doubt it'd be a problem."
To help you visualize why he can say eating these contaminated fish isn't an issue, take a look at this radiation dosing chart. An airline flight gives you many, many times more radiation exposure than one of these fish ever could. Living in a brick building. Getting a mamogram. The list goes on and on.
But what about the ocean of corpses? Radiation kills things, so that has to be the answer, right?
Not so fast. Turns out, the study being misquoted in these headlines was actually referencing a natural cycle of something called "marine snow" which is the deposition of organic detritus onto the sea floor from higher up in the water column. This cycle goes through things called "Blizzards" where an unusually high amount of material falls to the seafloor. However, these blizzards have been observed many times before and after Fukushima, and have more to do with ocean currents, wind patterns, and temperature, as the study itself goes to some length to explain.
You may also have heard or read headlines about massive starfish die-offs happening along the West Coast. This is, just like the previous two claims, true, except that again it is not a new phenomena, hasn't been linked to Fukushima in any way, and has also been observed recently happening on the East Coast as well, many thousands of miles removed from any possible water contamination for Fukushima. Often times, knowing only half the facts is worse than knowing none at all.
Wait! Babies are dropping like flies! Don't you care about babies!
Yes, I do, which is why I really hate it when people lie about them to manipulate our innate parental fears and protective instincts. And incidentally, no, U.S. babies are not dying from radiation poisoning. But even after having this headline shot out from under them, the publicly anti-nuclear energy authors of the first ridiculous claim doubled down and, using many of the exact same methodological flaws, came back with this gem about an increase in infant hypothyroidism on the West Coast that is just as big a pile. As the link shows, the authors never even attempt to establish a causal link between the two, instead merely documenting a rather weak correlation and hoping a largely scientifically-illiterate public will connect the dots that they failed to, while ignoring important details like the fact Iodine-131 has a half-life of only eight days. It turns inert in a matter of weeks, yet three years and many thousands of miles later, people are still being whipped into a panic.
If these sorts of tactics sound familiar, they should. For years, we've seen the exact same kinds of distortion coming from all corners of the alarmist, denialist, and conspiracy theory camps. For example, nearly everyone by now has heard from the completely discredited anti-vaccine movement about how childhood vaccinations correlate with rising rates of autism. They point to vaccine ingredients that everyone recognizes as poison in sufficient doses, such as mercury or formaldehyde as the triggers. What they always leave out are important things like the fact the dose of mercury is massively overshadowed by other natural sources (including, ironically, tuna) while the formaldehyde that naturally forms in our own blood streams is many dozens of times greater as well.
Same pattern; find a correlation, throw out some scary scenarios, add a pinch of facts, but only a pinch, leave out the rest of the facts and important context needed to see the whole picture, then pass it around through channels that are not subject to peer-review and wait for a concerned, yet naive public to draw the connections you never had the evidence to prove scientifically. It works for anti-vax, global-warming denialism, 9/11 truthers, moon-landing hoaxers, the whole lot. Wash, rinse, repeat.
Okay, but what about that terrifying map of all the radioactive water? Surely that's got to be something, right?
Wrong. In fact, it's not even a map of water currents! What you have here is a map of the projected distribution of tsunami waves from the disaster, how they were expected to propagate across the Pacific, and what heights they were expected to be. And before you ask if the waves could carry radioisotopes, just stop. Waves do not carry anything except kinetic energy. A wave is simply a transfer of energy from one molecule to the next. Think about what happens when you're in the deep end of a wave pool. Does the wave pick you up and carry you all the way to the shore? No. You go up, then come back down again as the wave of energy moves on and the next person goes up, then comes back down and so on.
The exception is right at the coasts where the water shallows out and forces the wave up until it 'breaks.' Only once the wave breaks in the last few dozens or hundreds of yards can it move anything forward with any speed. This is why you can't catch a wave in Tokyo and surf to San Diego. And if you can't, neither can radioactive cesium and iodine.
So why did they use the map in the first place? I don't know. Lack of any fact-checking, or a deliberate attempt to mislead, it doesn't really matter in the end, because now YOU know better.
The basic, foundational problem with all of the claims about Fukushima material causing species die-offs, habitat destruction, or human health risks on the west coast or anywhere else in North America is simply that the Pacific is absolutely, staggeringly massive. It is seventy million of cubic miles in volume. That's one hundred and eighty-eight quintillion gallons. I'm going to write that number out: 188,000,000,000,000,000,000 gallons.
Got that? By the time any contamination from Fukushima has been mixed into a volume that large, it will have become diluted many millions, even billions of times. Coupled with the fact that most of the more dangerous contaminants have radioactive half-lives ranging from days to a handful of years, and the danger is reduced even closer to zero. Once you understand this, the alarmists are left with a sort of homeopathic theory of radiation poisoning, with just as much supporting evidence backing the claims of both disciplines.
But I've rambled on long enough. Thanks for hanging in there with me. Now, my west coast friends, go take a swim in the ocean. Enjoy a plate of fish tacos.
And 49ers fans, you can go to hell.