STARSHIP REPO Cover Reveal!
Hey gang, sorry it's been so long between posts on the blog here. I've been a little preoccupied with… things. But, I'm making an effort to change that. Got a big post coming up soon.
Today however, we've got something very exciting. Tor Books has released the cover art for my next book, STARSHIP REPO! And here it is!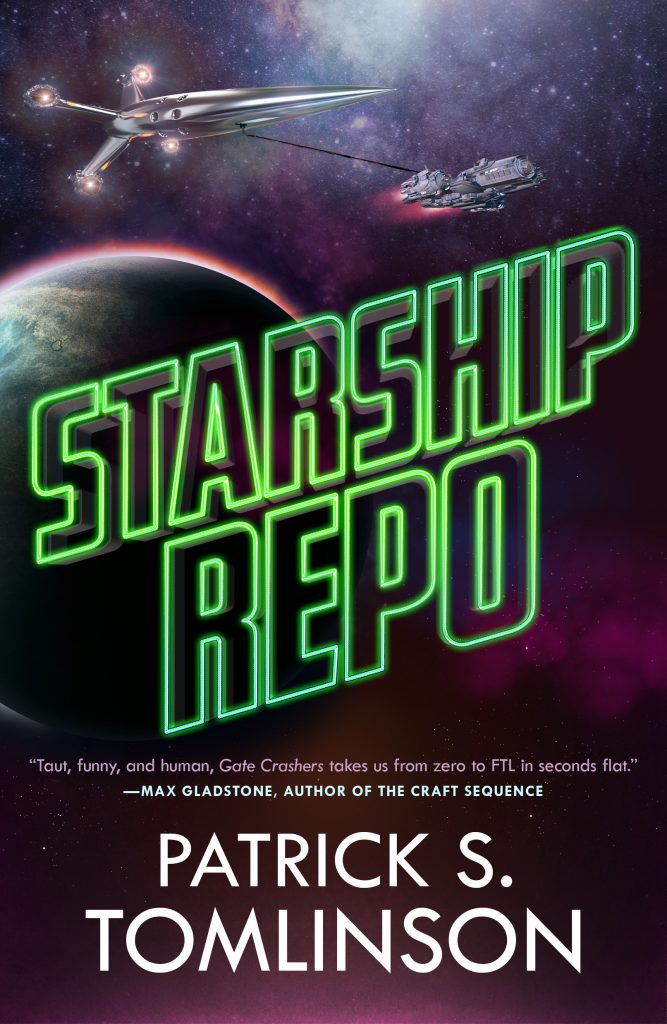 Isn't it fantastic? I love it. STARSHIP REPO is a follow up to June's GATE CRASHERS and is set in the same universe and timeline, but unlike a traditional sequel, it's almost entirely stand alone and introduces an entirely new cast of characters. Think how Discworld jumped around from the Nightwatch, to the wizards, to the witches, to Death, etc and you'll get a good idea of what we're trying to build for the long haul here.
Set five years after and hundreds of light years away from the events of GATE CRASHERS, this story follows around a teenage runaway Firstname Lastname (it's a data entry error, they'll fix it any day now) as she runs cons and street hustles, trying to survive in the margins as the only human on an immense alien trade station known as Junktion.
That is, until she falls in with a company of repossession agents. Except they don't mess around with cars. They steal back entire starships.
STARSHIP REPO is the best thing I've ever written. I pounded it out in less than four months, giggling madly the entire time. There's a brain in a jar, a communal organism, a transgender crab alien, and a hentai tentacle monster that lives in the sewers and has strong opinions about music piracy. I still can't believe Tor gave me money for this nonsense.
I unabashedly love it, and I think you will, too. It's scheduled to publish on May 21st, 2019. Preorders are live now, so reserve yourself a copy here on Amazon.